About Us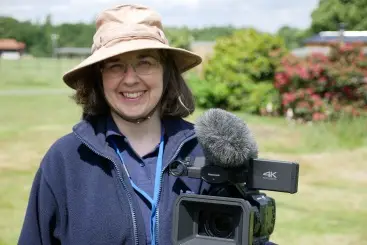 The company was founded by drama teacher and theatre lover Jan James and technology specialist Daniel to help children evaluate and share their performances in school productions. School Video's approach to performance filming quickly found favour with professional and amateur theatre groups as well as dance and theatre schools and academic schools. Today, we film around 120 shows per year and our work is split between the different sectors - the common thread is our understanding of the medium of live theatre and our ability to capture this on film. We have worked in all kinds of venues from school halls and school theatres, to tiny venues at the Edinburgh festival, to all sizes of professional theatres with capacities of up to 1500. We have been returning to many of our clients for years now, and regularly record multiple productions each year for a large number of them.
How We Work
We understand that the images we capture are only half the story. Great audio is also vital to ensure an excellent film. To achieve this, we always use multiple HD cameras (a minimum of 3 but regularly more, especially when filming in the round). In addition, we deploy several microphones mounted on or near the stage and take a feed from the sound desk. The mics are small and unobtrusive, and having mics and a feed enables us to balance the sound for the film effectively. When recording the show, we know that all the performers have put lots of effort into their performance. We work hard to produce a film which both tells the story and gives every performer their moment, whether they have a large or small role. A mix of wide, medium and close-up shots are used to achieve this. Our aim is to produce the best possible film of the show - a record of the piece of theatre being performed. It is this which sets us apart from other companies.
Our Backgrounds
Former drama teacher Jan was heavily involved in theatre tech, as well as directing and performing, whilst at college studying drama. She has spent years developing her video skills. Before School Video, Daniel worked in IT focusing on web technologies, equally happy running 50,000-product websites, writing software and streaming live events for clients. Having spent years running sound and light for amateur groups, he has brought this knowledge, and his keen interest in video, to the company. Both Daniel and Jan are theatre lovers.
DBS Enhanced Checked Fully Insured GDPR Compliant