Livestreaming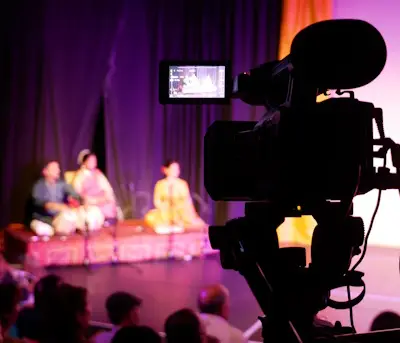 We offer lightweight, small footprint livestreaming. We can produce live streaming of your event, with up to 8 cameras.
Why use us?
We have live streamed all types of events, from School Plays to Professional Aerial Theatre. Whether you require a swift setup, have space constraints, or are organizing a unique, one-time event that larger production companies may not accommodate, we are here to meet your needs. Our services encompass streaming production across the UK, with the ability to deliver next-day or even same-day solutions for urgent, time-sensitive events like press conferences, sporting events, and breaking news stories that demand global visibility. We cater to a wide range of event categories, including but not limited to business, charity, and consumer events. From prestigious award shows, informative conferences, and lively music gigs to world record attempts, competitive sports, fan conventions, intimate weddings, and solemn funerals, our expertise extends across diverse occasions. If your specific event type is not mentioned above, please don't hesitate to reach out to us via phone or email. We are enthusiastic about expanding our repertoire and accommodating your unique requirements. We can offer Satellite networking as well as 4G & 5G bonding capability to allow us to stream your event from any location.
Costs
We offer the following packages for Live streaming: All prices are per day Lightweight Streaming (up to 5 cameras) £750. Satellite Uplink £50 (20Mbs uplink, 150Mbs down) Additional Camera Operators (£350) Travel outside South East UK, 50p per mile.
Main Kit List
3x Panasonic Professional 4k cameras 2x Panasonic 4k camcorders with full remote control gimbals 4x Panasonic Professional HD cameras 3x Low latency HD video transmitters and receivers 1x Blackmagic Design Atem ISO Extreme 1x Blackmagic Web Presenter 1x Blackmagic Hyperdeck 1x Behringer X18 digital mixer 4x headworn radio mics 4x lavalier radio mics 2x Handheld radio mics 4x Boundary microphones 6x Shotgun microphones 4x 4g Modems 1x 5g Modem 1x Starlink Satellite Internet Tripods, Mic Stands, Audio/SDI cabling etc. All kit can be powered off-grid for up to 6hrs.
Techy Stuff
We can live stream on a variety of platforms, including youtube,facebook,vimeo and others, we can also offer password protected streaming on our own platform. Streaming quality depends on the available network bandwidth, we can stream upto 1080p at a variety of bit rates depending on the available network speeds. We bond the available network connections together to create a reliable streaming network, ths can be a combination of the venues internet connection, 4g and 5G mobile networks and satellite broadband.