Why professional filming?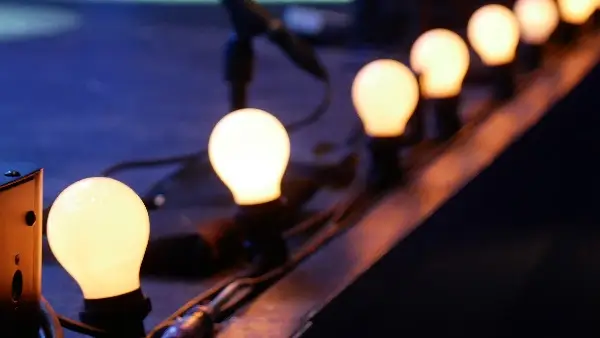 Why have a professional film your show?
Since cine cameras became available to the masses, parents have wanted to capture the achievements of their children to allow them to share their milestones with family and friends, or to look back on them in later years. Few people have not enjoyed looking back at film of their children or themselves and marvelling at the changes over the years.
In the past filming required a dedicated camera, these days with the proliferation of smartphones everyone seems to have a camera in their pocket. So why should you use a professional company to film your show when parents can do it themselves?
1. Better technology
The HD film cameras which professionals use have big lenses, huge chips and exposure control, meaning we can capture the action in almost all lighting conditions. Yes you can film with a smartphone, but the results are very often disappointing, as the camera's aperture is tiny, meaning that it won't react well to stage lights, generally resulting in an overexposed (or bleached) poor quality image.
2. Multiple cameras
We always shoot with more than one camera, meaning we don't miss any of the action or the story. We aim to get the whole cast in the film, whatever their role. We generally use one camera as a wide shot, and the others with operators to get in close to the action, to ensure we always have the shot we need. Editing together shots from multiple cameras also gives a more interesting final result, as there is variety in the final film.
3. Steady images
Holding a camera in a hand always results in a wobbly image, which can be hard to watch. Our cameras are mounted on tripods for stability, giving a steady image.
4. Sound
The microphone on smartphone is designed for phone calls, not for picking up speech on a stage from the back of the hall (especially when the performers may be quite quiet and the proud audience may be quite loud). We use wireless mics which we position close to the action, to pick up small voices, ensuring great sound quality on the film without trailing wires posing a potential hazard to performers, crew or audience.
5. Audience Enjoyment
Parents jostling for position to get the best shot, or even worse holding smartphones or even ipads over their heads, blocks the view for other audience members and can distract the performers and disrupt the performance. Bleeps and shutter sounds are very distracting, and the glow from devices screens can also be very noticeable from the stage. A smartphone or tablet held up high can even mean other parents (or even those concentrating on the phone or tablet) miss the most important part of the whole thing, watching their children perform! In this connected world, it's a good thing to encourage parents to sit back and enjoy the show, rather than concentrate on making their technology work.
6. Control
A professional film shoots means that you have some control over how the footage is used. Our DVDs state clearly that the footage is for personal use only and can not be shared via the internet or social networking. This mean that the school can be confident that they and other parents are respecting the wishes of parents who do not allow images of their children to be shared on the internet and that the school can retain control of how it is portrayed on the internet. For schools or groups who wish to use their film on their website themselves, and who have the necessary permissions for this from parents, we can make suitable edits available at no extra cost.
7. Children's confidence
As a parent, I am amazed that my own children still dig out the DVDs of their shows and watch them again and again, even years later. They love "being on the telly" and the affirmation that they were in the show, and their confidence has grown as a result. A full film of the whole show seems to be the most effective way of doing this as they can see their part in how the whole story fits together. We still all laugh at our son being a "retoifficker" (no, we weren't sure what to expect either) and our daughter's "cleaning dance". These are great moments we still share and that the children have loved sharing with the wider family who could not attend the show on the day. It seems daft that a simple DVD could mean so much to the children. But it really does.